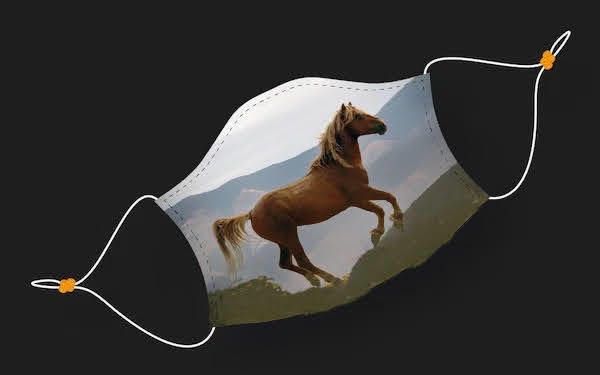 Supporting Trails In Spite of a Pandemic
The Year 2020 has become more than just a measure of time; it's become an adjective for all things that can go wrong.  It has become what Y2K threatened to be, but never found the strength.  And we hope soon, it is a distant memory.
For two decades, The Nebraska Horse Trails Committee has been dedicated to creating and preserving horse trails in Nebraska.  Yes, we've cancelled two Expos and the popular Trail Challenge, but our organization kept working,   
We didn't let a pandemic stop our efforts.  
We are anxious to share our 2020 successes with you today.  And at the end, let you know how you can help support horse trails in Nebraska.  No time for reading today?  Put a bookmark on this page and simply donate.  And don't forget to come back and read all about us!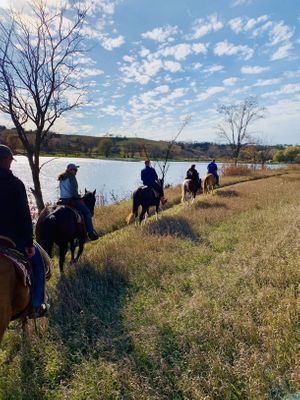 SUMMIT LAKE
Our call for volunteers was answered!  This fall, the NHTC and many committed workers provided the manpower to help clear the way for a horse trail at Summit Lake north of Blair, Nebraska.  Nebraska Game and Parks has given the green light to create a horse trail around this beautiful lake in eastern Nebraska.  After several weekends of work, the primary trail has been established.  Using volunteer labor, the NHTC provided all equipment and 8 concrete bridge crossings for this project.  It's not all work and no play.  Volunteers were invited to try out the soon-to-be-opened trails following a hard day of work.  Stay tuned to more information about the opening of this trail in 2021.  
PECKERNECK TRAIL 
In 2019, the flooding caused a lot of damage to the Peckerneck Trail south of Harlan County Lake near Alma, Nebraska.  A bridge was washed out as well as other damage to this "all-volunteer" maintained trail.  In the past, the NHTC had donated a large mower to the Friends of Peckerneck, as well as provide periodic funding to their maintenance treasury.  This year, we provided funding to replace the bridge.  In addition, Mike Anderson, President of NHTC and committee members Keith, Betty & Kyle Vering joined Dave Wolf and other Friends of Peckerneck to clear brush and provide trail maintenance on this important trail in south-central Nebraska.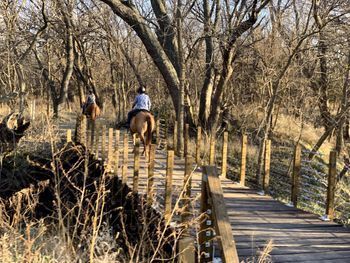 WILDERNESS PARK
If you have ridden the trails at Wilderness Park in Lincoln lately, you will see what we called the "swinging bridge" northwest of the 14th Street trail head has been replaced.  This bridge has been a safety concern for many years and over the past two years, its deteriorating condition has made it almost impossible to go from one trail head to the other.  The NHTC has played an active roll in supporting Wilderness Park and keep our fingers on the pulse of Friends of Wilderness Park.  Through the Run for the Bridges campaign, the NHTC made a cash donation for the bridge projects,  We continue to encourage park officials to find a suitable solution for the crossing of what they call Cardwell Branch.  The steep approaches and unstable crossing is a concern for horse and rider safety.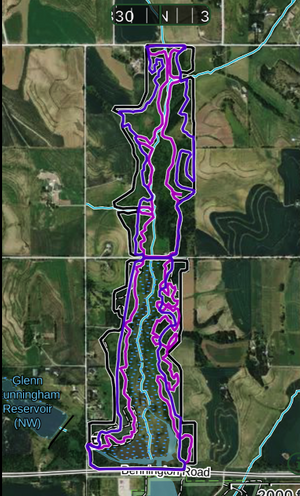 CUNNINGHAM LAKE
Cunningham Lake north of Omaha closed last  year for improvements.  This city park was popular to horse trail riders in the area, with trails encompassing the entire lake.  While some folks had ventured across Highway 36  to ride in the past, the fear of the unknown kept most riders away.  Partnering with Friends of Cunningham Lake and a local running club, trail improvements were made across the highway from Cunningham Lake, expanding north for two miles.  There is a trail that goes around the entire area, known as the "fire break" trail and another one up the middle.  Along both routes, you will find off-shoots from these trails.  Ride them all, and you've covered almost 20 miles!  The trails are heavily timbered and beautiful in all seasons.  You'll find 3 hitching posts and concrete bridges donated to the Friends of Cunningham by our organization.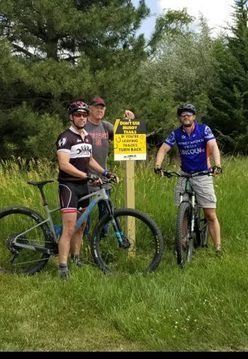 BRANCHED OAK
Another hot weekend was spent at Branched Oak Lake in August with a team of volunteers for a quick trail clearing from Area 2, concentrating on getting some of the large downed trees removed from the trail.  There is an opportunity to expand the trail system from camp and we are keeping it under consideration for 2021.  
#SUPPORTHORSETRAILS
As we get ready to roll into 2021 with rose-colored glasses, we hope to see an end to the pandemic and have an opportunity to create some new fundraising events to help replenish our treasury which is usually funded by our Expos.  Those "Friends of" groups noted in this article work hard to keep their local trails open and the NHTC wants to continue to help support their projects and other projects for horse trails in our state.  Volunteer labor is not enough.  Our treasury is used to purchase the bridges mentioned above, hitching posts and corrals at trail heads.  It's for emergency repairs when things go sideways because of a flood or damage.  It is to create a learning environment on the trail like the activity course we installed.   Your cash donation to our organization today will help supplement those missed fundraising opportunities this past year and put us in better shape for this much anticipated new year.    
CAN WE COUNT ON YOU? 
Supporting Nebraska horse trails is easy.  Simply donate securely and safely online or send a check to the NHTC, PO Box 212, Blair, NE  68008.  We are a 501c3 organization; your donation is tax deductible.  Membership dues also contribute to our projects.  Consider becoming a member or volunteer.  No monetary gift is too big or too small.  A gift of your time is priceless.   
Thank you for supporting our organization!  Happy Trails!
---
Enjoy these photos from many of the projects mentioned above.  
SUMMIT LAKE
Cunningham Lake
From the New Cunningham Lake
Peckerneck Trail