NHTC Trail Talk
Keep up to date with horse trails in our state.  More information can be found by clicking on the title of each entry below.  
Horse Trails Open at Summit Lake
New Trails at Summit Lake
The Nebraska Horse Trails Committee has been hard at work.  Partnering with Nebraska Game & Parks and the Papio Missouri NRD, a new equestrian trail was developed at Summit Lake State Recreation Area west of Tekamah, Nebraska.
This 10-mile trail, now called the Centennial Trail as a nod to the 100th anniversary of Nebraska Game & Parks, provides diversity to your ride.  Circling the lake, riders will get breathtaking views from the hilltops as well as meander through the timbers.  The highlight is a shallow-water crossing at the southeast corner of the trail.  It spans about 40 yards with a depth of up to 24".  It's a unique crossing for Nebraska.
Nebraska Game & Parks was looking to establish a horse trail in northeast Nebraska and approached the Nebraska Horse Trails Committee for collaboration.  Summit Lake seemed a likely choice with enough acreage for a 10+ mile trail and other amenities in the area.  Beginning in the fall of 2020, NHTC volunteers, the local riding community and those in surrounding communities spent roughly 600 hours clearing the trail with chainsaws, pruners and by hand.  Culverts and other creek bed crossings were designed for horses and maintenance equipment.  With donations from NHTC, bridges were built and installed across creek beds to access remote areas in the park.   
Mike Anderson, Chairman of the Nebraska Horse Trails Committee is excited about this new riding opportunity.  He went on to say that NG&P is also planning to add an equestrian campground in 2023 or 2024, so stay tuned for more exciting news.  
The trails are open for day riding only!  Enjoy the ride.  A grand opening will be planned soon. 
Please review this Summit Lake Centennial Trail Map for more information on where to ride & staging.
In the News
Centennial Trail Map / Summit Lake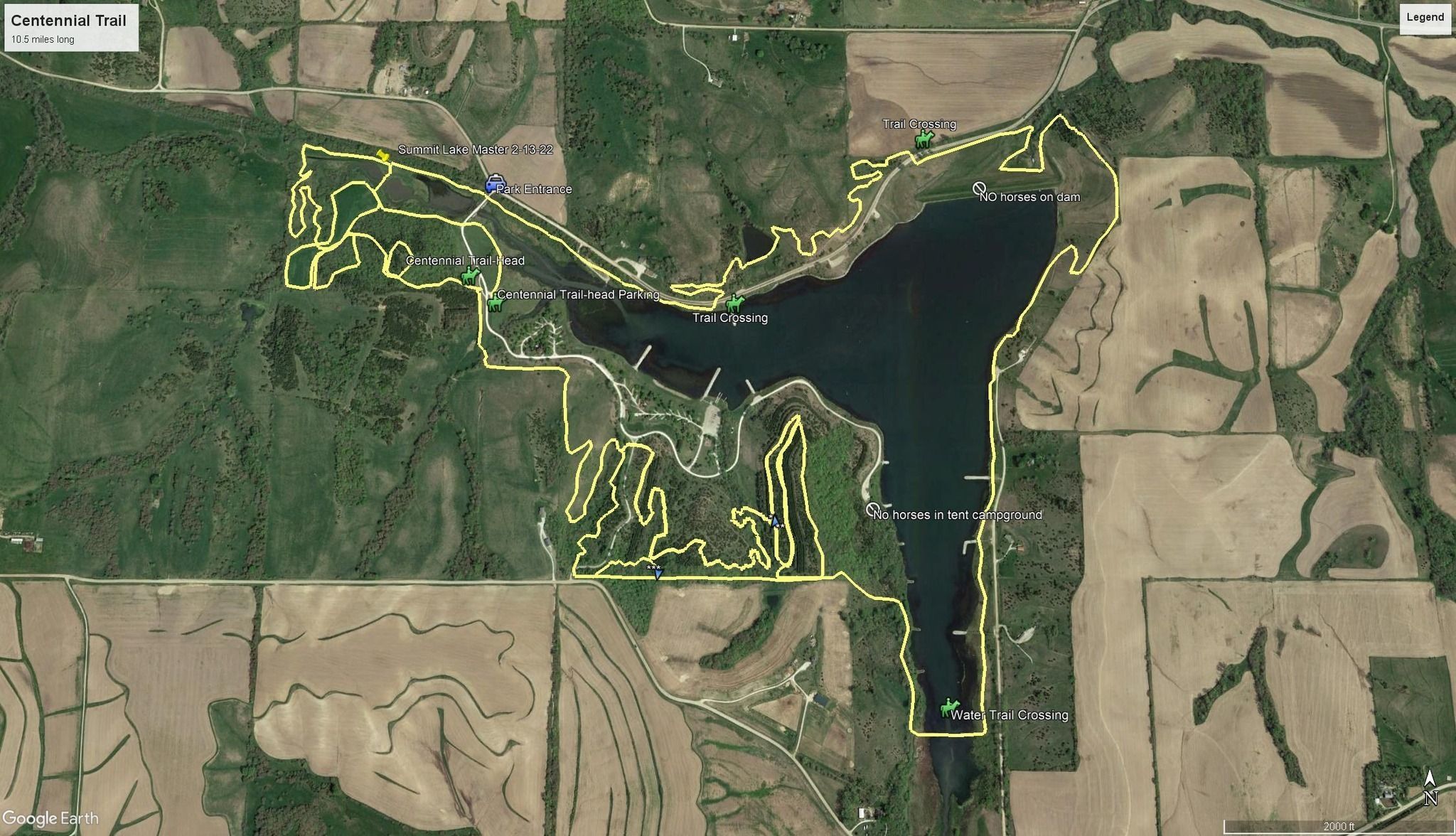 Download Brochure with Map to PDF
Trail News Archives
Visit our Archives for other trail news.