Volunteers Needed for Trail Challenge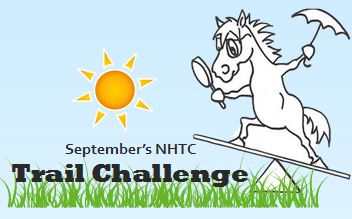 The NHTC Trail Challenge returns to Branched Oak Lake on Sunday, September 8th for our 10 Year Celebration!  This is our summer fundraising event - a chance to get out and be with those who support our organization and events.  We can't do it without your help.  
If you would like to volunteer to help at this year's Trail Challenge, SIGN UP HERE for volunteer opportunities.  From helping with registration, our bag raffle, judging to riding safety, lots of ways you can help including bringing a side dish or dessert for the meal that follows the ride.  .  
In addition, we are looking for donations for the bag raffle and auction.  If you have new or gently used items you would like to donate, please email Alice Auers.  You might also call or text.  
Volunteers can order a commemorative tee shirt online.  (For pick up only at the ride).  
And of course, if you don't want to volunteer, come ride with us.  Still taking RIDE ENTRIES.  
---
Your Help Is Needed
There are countless ways to get involved with our organization.
If you're the type that likes to see the fruits of your labor, check out our volunteer opportunities where you can directly affect those we serve. Or perhaps you have a skill such as desktop publishing or web design that would help make our organization more visible.  Did you know a pie can be worth hundreds of dollars?  One of our loyal volunteers donates pies to our auction every year and it is worth every bid it receives!  We also appreciate those that may not have the time but have the wherewithal to make a difference financially.   We are grateful for sponsors and donation. 
We would enjoy having you on-board!  If you're interested in seeing what's going on, visit our calendar of events.
Membership
Volunteers are always welcome to our events and meetings.  Membership has its privilege.  
General Membership is open to anyone who supports horse trail riding in Nebraska.  Attend our meetings and functions and be part of our active membership distribution to discuss projects and trail related issues.  Participate on our various committees which make a difference in the horse trail riding communities.  
Active Voting Membership is granted to General Members upon satisfying the following requirements:
Complete a Membership Form & submit with $10 dues (Individual) or $20 (Family)
Attended a minimum of three of the 6 meetings (or 50% if greater) scheduled in the calendar year.  
Participated in three NHTC fundraisers, trail clearings or other NHTC approved activities which demonstrate your commitment to the organization
Liability Insurance Available to Members
Members of the Nebraska Horse Trails Committee can upgrade their membership to include a Personal Excess Liability Insurance administered by Equisure for Association Resource Group (ARG).   The $1,000,000 coverage protects members from claims arising from the use and/or ownership of a horse and for horse-related accidents involving third-party bodily injury or property damage. Coverage will apply when engaged in horse related activity and coverage is more than any existing valid and collectible insurance.   Valid month of enrollment through December 31 of current year.  (Must have NHTC membership in place to be eligible for this coverage. For information on this important membership feature, review the Frequently Asked Questions.  
Additional cost for insurance is $10 per member and $40 per family.  See Membership Form.