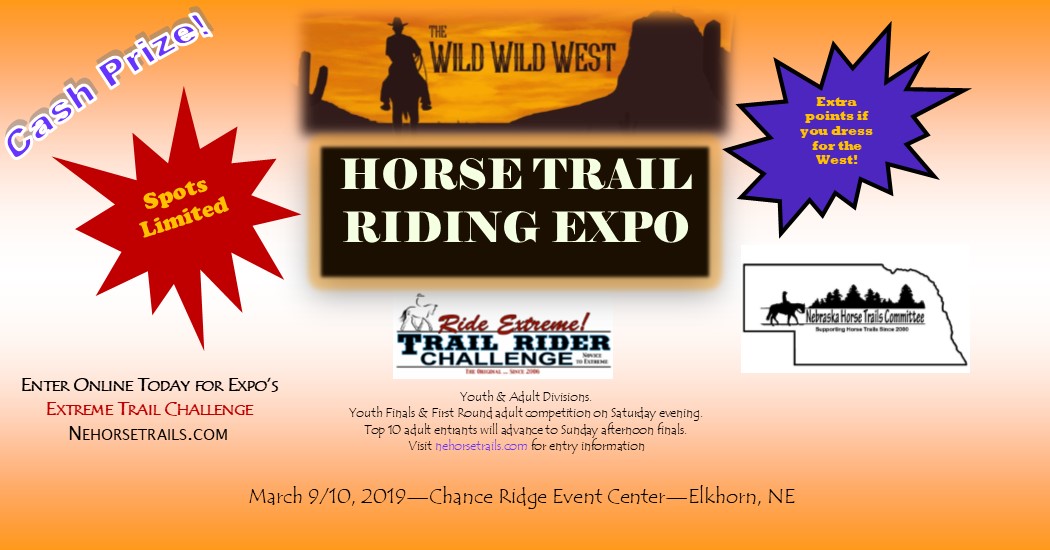 Expo's Trail Challenge is Back!
Enter today for the Horse Trail Riding Expo's Extreme Trail Challenge, hosted by Kelli Horsemanship.  An Expo favorite, come experience our Wild, Wild West trail course.  Don't just ride it - live it.  Dress the part for extra points!
First round for adult riders (age 13 and up) will be Saturday afternoon/evening.   The Top 10 will advance to finals on Sunday afternoon.  Children (age 8-12) will compete prior to the adult riders on Saturday only.  (Child must be able to manage their own horse and children must wear helmets.)
Entries are limited and may fill up without notice.    
REGISTRATION
For quick and easy registration, click here to ENTER ONLINE.
If entering online is not an option, you may print the registration form and mail with your payment.  Address information is on the form.  
Additional Information
This competition is not recommended for new or green horses.  Do not bring a horse that has behavioral issues, including, but not limited to, kicking, bucking or rearing, or if the horse is not use to crowds and other horses. We reserve the right to dismiss any horse from a demo or competition if it is deemed unsafe for its owner or other riders.
No stallions will be allowed to participate in this event. No exceptions.
Do not bring additional horses to this event.
Participants and their horses must be on premises 90 minutes prior to your assigned clinic or demonstration. Check in at the show office when you arrive. If you did not purchase a stall for the event, your horse must remain in or tied to your trailer until your scheduled event.
All overnight horses must be in purchased stalls.
Horses stalled at the event may arrive Friday evening after 3:00 pm and no later than 8:00 PM.  Horses may arrive on Saturday/Sunday after 8:00 AM.
Stalls are provided first come, first served after 3:00 PM
Please note: There are no wash facilities at this venue, so you will need to bring in a clean horse
Bring your own shavings and clean your own stall and around your trailer at the end of the event.  Otherwise volunteers have to do it and we have already worked the entire weekend for our guests
Payment must accompany entry; no refunds
Wristbands will be provided upon check-in.  Lost, stolen or forgotten wristbands will not be replaced.  No exceptions.
Trailer parking is available west of the arena.  No electrical hook-ups available
Out of state horses must have 30 day health papers and 12 month negative Coggins test
We recommend all horses be current on vaccinations
The Nebraska Horse Trails Committee, our expo and volunteers, Chance Ridge Event Center and employees are not responsible for accidents or injuries.  Liability Release Forms must be signed at check-in
For additional information on this event, please call or text 402.440.2630.  DO NOT CALL Chance Ridge.  They are not the hosts of this event.
Remember, dress the part for extra points!