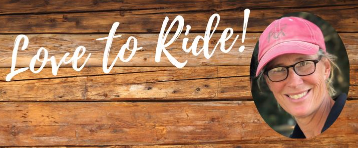 Participate in Kelli's Clinics
Basic Session:  Applying Groundwork Skills to Trail Riding
(THIS CLINIC IS FULL.  Come to expo and watch what Kelli teaches those participating.)   Saturday's session, learn how your body language effects everything you do with your horse.  Apply it to sending your horse over trail obstacles.  Then mount up and see how our body effects our horse while creating rhythm and relaxation when traveling on the trail and over obstacles.
On Sunday, be prepared to really understand the hindquarters and how to use them first to create safety and then to develop collection. On the ground we will use timing and feel to direct the feet then understand how it applies to despooking.  Then mount up; we will then apply it to our riding. Learn exercises to develop collection to increase the longevity of our horse and the smoothness of the ride!
Advanced Session:  Applying Groundwork Skills to Emergencies and Disasters
Sometimes we come across real life trail situations that require a little more confidence, skill, determination and grit.  Apply your skills to sending over large and/or scary obstacles including water and creeks, and fallen trees. See why groundwork works. We will then drag larger objects - perhaps a stretcher with an injured rider or a small tree.  
Sunday: Encounter Disaster and Emergency situations. Advanced despooking!  Solidify your despooking skills and confidence working through noises and sirens, smoke, wind.
Limited to 6-8 participants.  Entries based on first come, first served.  THOSE HORSES ENTERED IN THE TRAIL CHALLENGE ARE NOT ELIGIBLE FOR THIS CLINIC.  THOSE RIDERS CAN CHOOSE ANOTHER HORSE FOR THIS CLINIC.  
Open Riding on Obstacle Course
Would you like to try our horse on our obstacle course?  Open riding under Kelli's direction will be available early Sunday morning for about an hour.  $20 riding fee plus daily admission.  Register online.  Stalls available for additional fee or haul in and out.  
REGISTER ONLINE
Online entry is the quickest and easiest way to sign up for our events.  If you are unable to enter online, please scroll to the bottom of this page for paper entry instructions.  
.