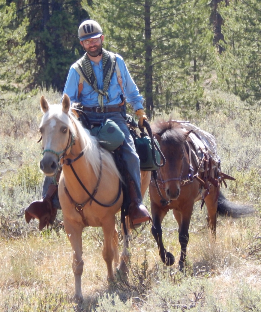 The TrailMeister
Robert Eversole "The TrailMeister"- I work hard to help horse and mule riders find the straight scoop on new places to ride and camp as well sharing his knowledge of trail riding and camping with horses and mules. Robert also owns and operates the largest guide to horse trails and horse camps in the world, www.TrailMeister.com.
Active in the equine community, Robert is a PATH intl. Registered Instructor with nearly twenty years of experience helping individuals with special needs experience the rewarding benefits of equine-assisted activities.
Robert is a highly requested clinician at equine events around the nation where he shares his knowledge of trail riding, camping with livestock, and trail safety.
When he's not speaking with horse and mule riders at events across the US, writing regular feature columns in leading equine publications including the Northwest Horse Source, Robert can be found riding, camping, and packing in wilderness areas across the country.
Be sure and attend one of Robert's lectures and visit him in his booth at Expo.  
Topics include
Getting back to camp in time for dinner
When sh@t hits the fan
Getting back in the saddle after a traumatic event
Fine and pleasant miseries of back country horse camping
Planning the perfect horse trail camp adventure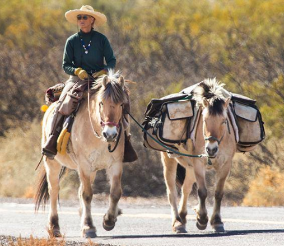 Bernice Ende ~ Lady Longrider
"There are many reasons why I ride," says Bernice Ende.  "Here are four.  To encourage female leadership. To discover, learn and grow."
The Horse Trail Riding Expo is pleased to host Bernice and her team of Norwegian Fjords.  A "long rider" is someone who has ridden more than 1,000 continuous miles on a single journey. Ende's journeys have taken her more than 20 times that distance traveling over 22,000 miles on horseback.  A gift ballet dancer who, she says, was "inspired by the horse", teaching dance for over 25 years.  After retiring in 2003, adventure called.  Come and hear about Bernice's journey.  Take home a copy of her book. Visit Bernice's Website
Check Back Often for More Updates