Steve Lantvit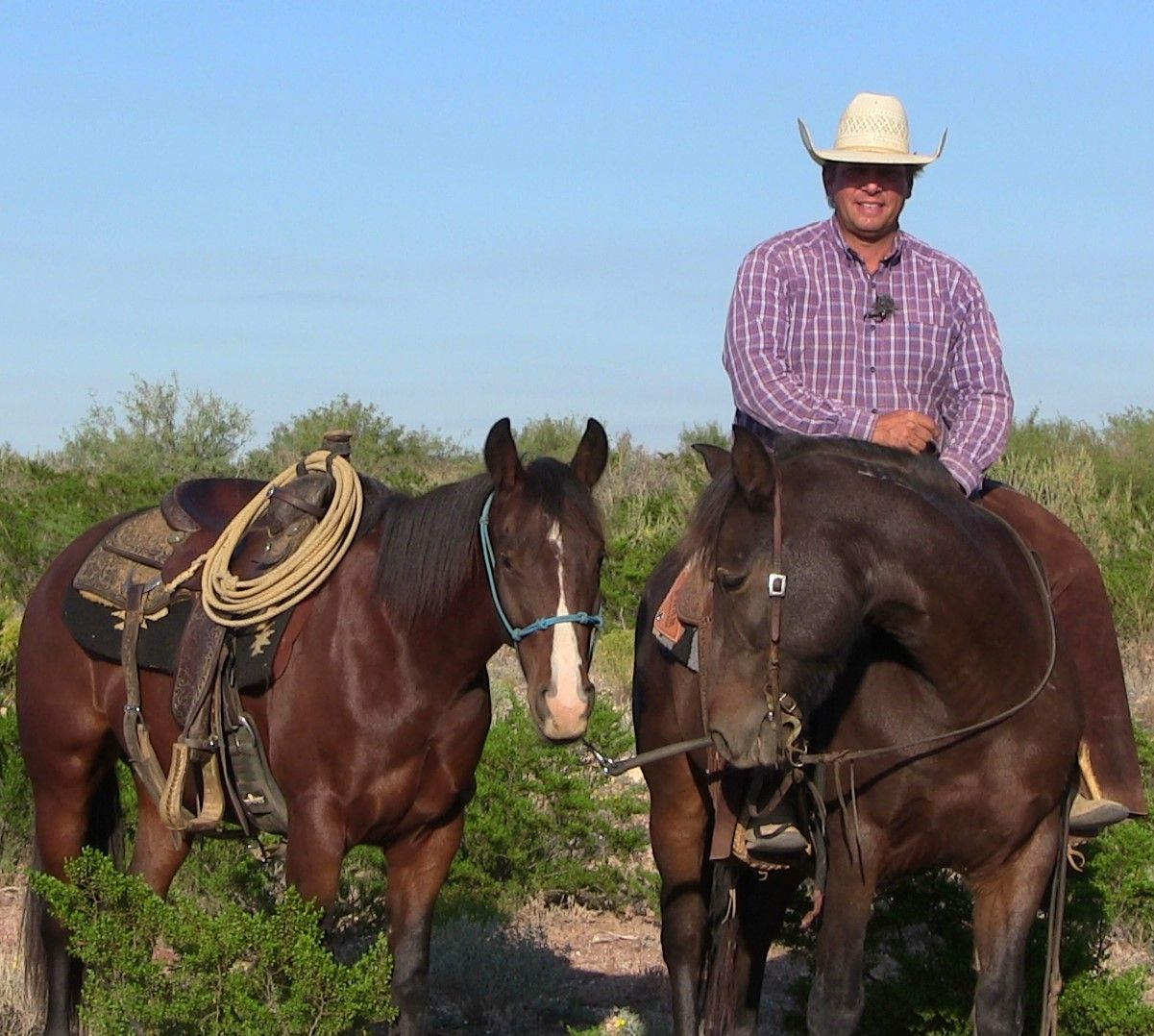 Steve Lantvit
STEVE LANTVIT Renowned, award-winning horseman, Steve Lantvit, captivates the equine world with a fresh and innovative approach to training individuals and horses. Coupled with decades of experience and knowledge across multiple disciplines, Steve's training program is built on trust, gentle hands, and a true partnership regardless of the rider's discipline or experience.
Steve's teaching style provides his students with the "why" and not just the "how" or the "what" giving them the necessary tools to be successful on their own. His techniques are applied on the trail, ranch or in the show pen, with an emphasis on creating a light horse through correct timing and clear communication. Steve strives to help fellow horseman/woman achieve their dreams, overcome obstacles, and to challenge themselves to do the best by the horse and for the horse.

Traveling across the US sharing his knowledge and passion for horses, Steve enjoys conducting clinics, presenting at Expos, and brings his teachings right into your home with his television series, Steve Lantvit "Sure in the Saddle" airs on RFD-TV and the Cowboy Channel.  
Would you like an opportunity to ride with Steve at Expo?  We are taking up to six riders for two of Steve's sessions detailed below.  Follow the links for necessary information about participation in the clinic.  
Saturday, March 21 - Gain Confidence Under Saddle.  Learn more...... 
Sunday, March 22 - Sidepass & Leg Yields.  Learn more ......
Do you have a horse that is difficult to load?  Applications will be considered for Steve to work with your horse.  Learn more.... 
---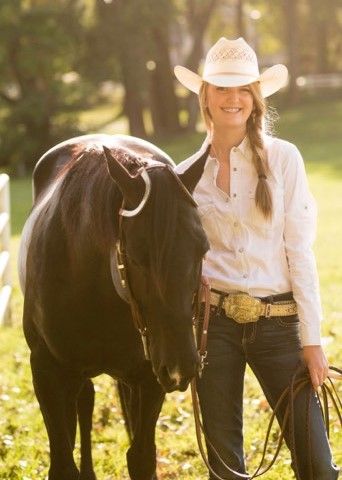 Italia Rouse - Twisted Arrow Horsemanship
Driven to teach others how to effectively and safely work with and around horses, Italia Rouse of Twisted Arrow Horsemanship will help you better prepare your horse for the trail.  On Day 1, Italia will show you groundwork exercises to gain your horse's respect as well as control of its feet.  Her Day 2 session will demonstrate exercises to practice in the saddle to help build your confidence to hit the trail!  Watch and learn and try at home before the trail riding season begins!  
Italia is from Elkhorn, Nebraska and has been an active participant at this Expo for many years.  
x
---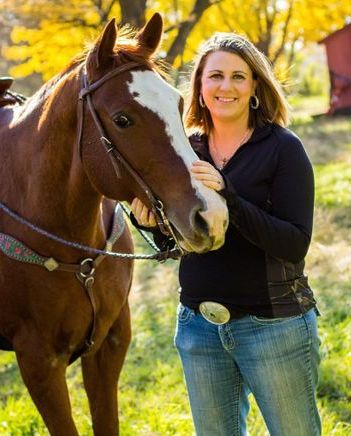 Katrina Holley - Healing Hooves Horsemanship
Does your horse refuse to stand still while saddling?  Does it walk off before you are safely mounted?  Not only is this a nuisance for the rider, but it is also a potential safety issue.  Katrina Holley of Healing Hooves Horsemanship will show you ways to break this bad habit.  In addition, she will help riders learn proper mounting to relieve your horse of saddle discomfort and putting unnecessary pressure on the horse's spine.  
Katrina is from Carleton, Nebraska and provides a mobile service using the home turf of the horse and rider for her training program.  The goal is to bring confidence, understanding, and insight to both horse and rider.  
.
---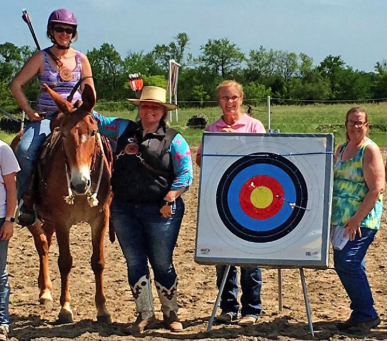 Brandy Von Holten of Von Holten Ranch
"A solid trail horse must embody the skills used to navigate through any situation..."  Country Tough Trail Versatility is designed to create a platform for the trail horse to join the ranks of other disciplines, and not be "just a trail horse".  ~Brandy Von Holten
There is a lot of fun things happening at the Von Holten Ranch near Mora, Missouri and Brandy Van Holten is here to give you a demo of some of their activities.  Country Tough Trail Versatility will help your horse become a better trail horse.  Brandy will also provide an inside look into Mounted Archery.  With her mule, JoJo, she won the Sharp Shooter title in cantering mounted archery, walking mounted archery, and ground shooting. Learn about this new, exciting equine sport and see it in action!   
---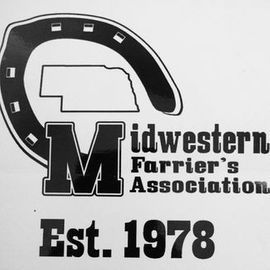 Midwestern Farrier's Association "Hammer In"
There's a whole lot of hammering going on!  That's the Midwestern Farrier's Associaton "Hammer In".  When you hear it, check them out.  Your favorite farrier just might be a part of this loud activity!  Stop by and support one of the most important people in your horse's life - the farrier!  No hoof, no horse. 
x
---
Expo's Trail Challenge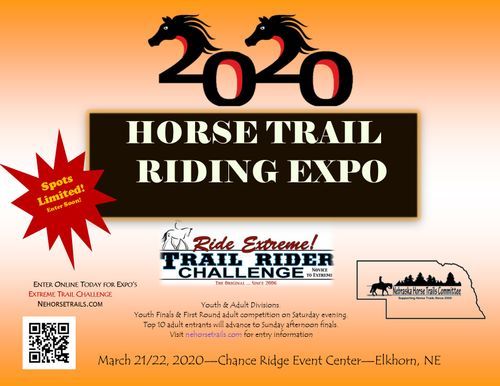 The Horse Trail Riding Expo's Trail Challenge is a highlight of our Expo and we work very hard to make it a unique event each year.  hosted by Kelli Paulson of the Trail Rider Challenge who encourages you and your horse to develop a partnership based on trust and measure your horsemanship skills.  Your partnership is then scored on an obstacle course designed to challenge your skills at all levels and encourage good horsemanship.
 We so enjoy your participation in this event.  Are you ready to enter?  Here's how.....  
---
More Lecture Room Topics
Each year we strive to find topics of interest to trail riders and equine enthusiasts.  We are pleased to have these experts share their knowledge with our Expo guests.  Please plan to attend their presentations in the Lecture Room and as always, stay for the prize drawings immediately after the presentation.  Expo lecture information coming soon.