10th Year NHTC Trail Challenge
The 10th Annual NHTC Trail Challenge is in the books!  Thank you to everyone who volunteered, rode and participated in any way.  We had 88 riders and it was a very successful event.  Congratulations!
Junior Division
1st Place - Kayley Paitz, Henderson, NE
2nd Place - Riley Besinger, North Platte, NE
3rd Place - Natalie Plautz, Malcolm, NE
Adult Division
1st Place - Alice Tvrdik, Omaha, NE
2nd Place - Brianna Shook, Seward, NE
3rd Place - Kara Mehaffy, Crescent, IA
4th Place - Rebekah Rehm, Ashland, NE
5th Place - Jay Hamre, Arlington, NE
6th Place - Megan Leaming, Giltner, NE
7th Place - Ryan Kreikemeier, Omaha, NE
8th Place - Sherrie Reeble, Elkhorn, NE
9th Place - Janelle Stelk, Phillips, NE
10th Place - Pam Butterfield, Raymond, NE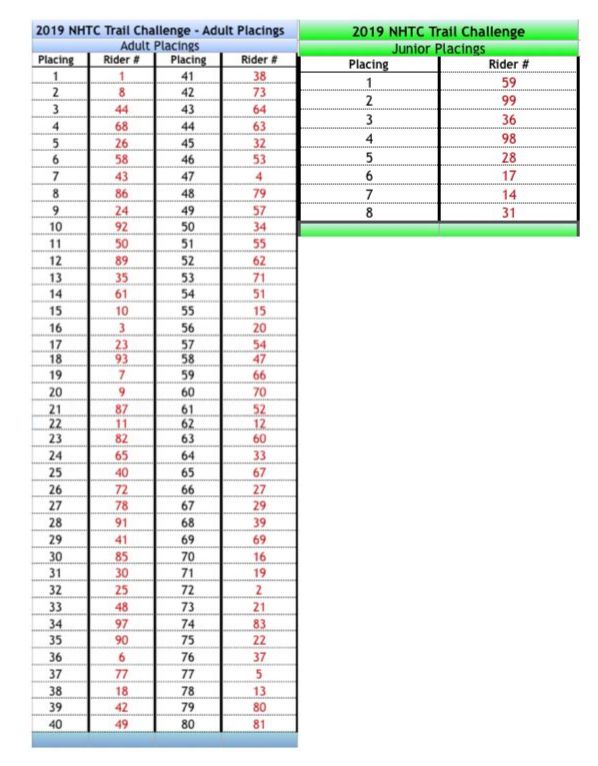 ---
Thank You
A special thank you to our volunteers and donors.  Without you, this event would not be possible.   
Visit our Facebook page to view pictures from the event as they are posted.